WALTERBORO, S.C. — Lawyers for convicted murderer Alex Murdaugh filed a motion Tuesday seeking a new trial after allegedly uncovering evidence of jury tampering.
Attorneys Richard "Dick" Harpootlian and Jim Griffin claim in the motion that Rebecca Hill, the Colleton County clerk of court, "tampered with the jury by advising them not to believe Murdaugh's testimony and other evidence presented by the defense, pressuring them to reach a quick guilty verdict, and even misrepresenting critical and material information to the trial judge in her campaign to remove a juror she believed to be favorable to the defense." 
The attorneys are expected to speak on their findings later Tuesday, the latest legal twist coming six months after a jury found Murdaugh, 55, guilty of two counts of murder in the fatal shootings of his wife, Margaret, 52, and their youngest son, Paul, 22, in June 2021.
Two sources familiar with the motion told NBC News that at least two of the jurors have hired lawyers.
Murdaugh, a once-prominent South Carolina lawyer, was punished with two consecutive life sentences without parole.
Hill co-authored the book, "Behind the Doors of Justice: The Murdaugh Murders," published in July. It details Hill's experience overseeing such a major trial and her family's history with the Murdaughs, whose family patriarchs had previously wielded power as the top prosecutor in South Carolina's coastal Lowcountry.
The motion for a new trial accuses Hill of pressuring jurors in the trial, who took less than three hours to deliberate to find Murdaugh guilty, to reach a quick verdict.
"Ms. Hill did these things to secure for herself a book deal and media appearances that would not happen in the event of a mistrial," the motion says. "Ms. Hill betrayed her oath of office for money and fame."
Neither Hill nor the State Office of the Attorney General could immediately be reached for comment Tuesday.
The South Carolina Law Enforcement Division, which investigated the slayings, declined to comment.
Murdaugh has proclaimed his innocence since a grand jury indicted him in the murders last year, and prosecutors alleged he killed them to gain pity before being exposed for a slew of financial crimes.
At his trial, Murdaugh took the stand and admitted lying repeatedly to investigators and said he was dishonest about his alibi on the night of the murders because of his addiction to pain pills and general paranoia.
Murdaugh's defense team previously said they planned to appeal the conviction. Throughout the roughly six-week trial, they objected to several of the court's rulings, including the admission of Murdaugh's financial crimes into evidence.
The prosecution built a sprawling case based on circumstantial evidence to convince jurors that Murdaugh was guilty, using electronic data and video extracted from the victims' cellphones to suggest that only he had the motive, means and opportunity to kill his wife and son.
Three jurors said on NBC's "TODAY" show in March that they didn't believe Murdaugh should have taken the stand in his defense and that his emotions during his two days of testimony appeared manufactured.
"No, I didn't think he was crying. He turned it on and off," juror Gwen Generette said.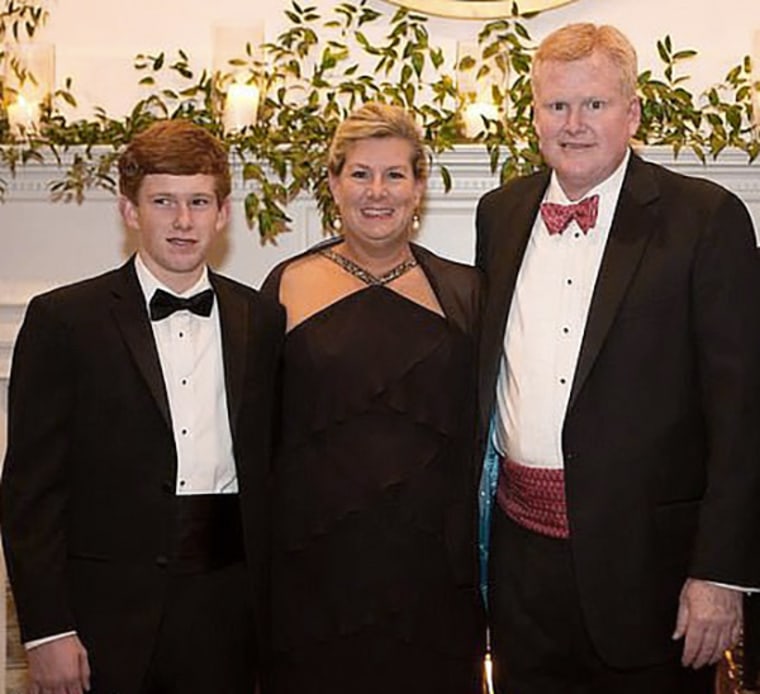 The trial drew intense coverage for a case first classified as an unsolved double homicide of the mother and son, but it soon widened into allegations of financial fraud, a hired hitman plot and drug addiction, and it revived inquiries into other curious deaths linked to the Murdaugh family.
In general, attempts to win a new trial for a murder case in South Carolina is considered a high bar. The new trial can't simply be a regurgitation of arguments heard previously but must hinge on new evidence discovered after the trial that is so significant it can change the verdict.
Last week, the South Carolina Department of Corrections said Murdaugh lost his prison phone and canteen privileges after he broke rules about engaging with the media, stemming from an investigation that found he read his journal entries to Griffin in a recorded phone call. The recording was for a Fox Nation documentary, according to an incident report.
Haylee Barber reported from Walterboro, and Erik Ortiz from New York.