Britney Spears says she had an abortion while dating Justin Timberlake more than 20 years ago.
The revelation came from an excerpt of the US pop star's upcoming memoir – a selection of extracts which were published on Tuesday by People magazine.
In the excerpt, Spears described the pregnancy as a "surprise", but wrote: "For me, it wasn't a tragedy.
"But Justin definitely wasn't happy about the pregnancy. He said we weren't ready to have a baby in our lives, that we were way too young.
"If it had been left up to me alone, I never would have done it."
She also described the abortion as "one of the most agonising things I have ever experienced in my life".
Sky News has reached out to representatives for Spears and Timberlake for comment.
Spears, a prolific user of social media, has not posted to Instagram or X, formerly known as Twitter, since the People magazine story was published.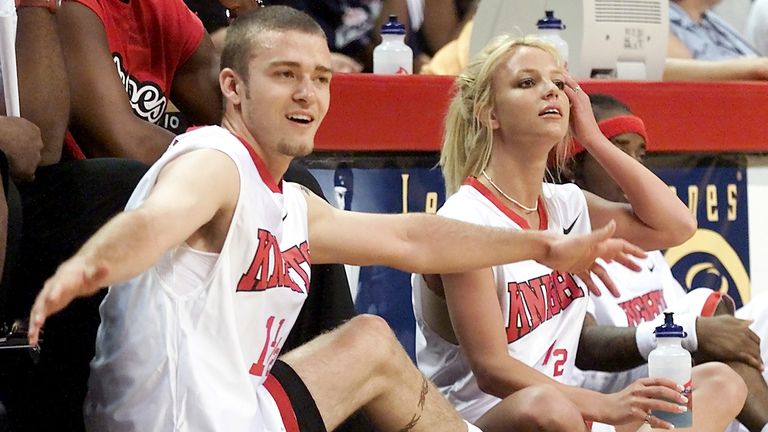 The singer was 17 when she started dating then NSYNC star, Timberlake, in 1999. The pair were together until 2002.
It is unclear from the excerpts when the pregnancy happened.
Read more:
Britney 'hit in the face' by NBA star's bodyguard
Or did she 'hit herself'?
When star's ex was convicted of crashing her wedding
Spears went on to have two children with the rapper and dancer Kevin Federline, who she married in 2004.
However, she was later placed under a court-ordered conservatorship – mostly under the supervision of her father Jamie Spears – after public breakdowns.
The controversial legal arrangement governed Spears' life for more than 13 years, allowing her father to control her freedom and finances.
It ended in late 2021 after a swelling #FreeBritney movement that helped secure new limits on conservatorships in California.
Her tell-all memoir, titled The Woman In Me, will be published in October.
According to the book's publisher, it will be a "brave and astonishingly moving story about freedom, fame, motherhood, survival, faith, and hope".
Click to subscribe to Backstage wherever you get your podcasts
The book deal – reported to be worth as much as $15m (£11m) – will also cover the singer's battle to end her conservatorship.
Announcing the book in July, she wrote in a post on social media: "It's coming, my story, on my terms, at last."
Its publication comes just months after the 41-year-old's divorce from Sam Asghari was announced.
The pair married in June last year at her home in Los Angeles in a ceremony where the guests included Madonna and Drew Barrymore.