Police have appealed for footage after Just Stop Oil protesters invaded the stage at a West End performance of Les Miserables.
Five people were arrested after activists stormed the stage on Wednesday night, halting the musical.
The Metropolitan Police said officers are keen to hear "from those in the audience who may have travelled from far outside London in order to see the show".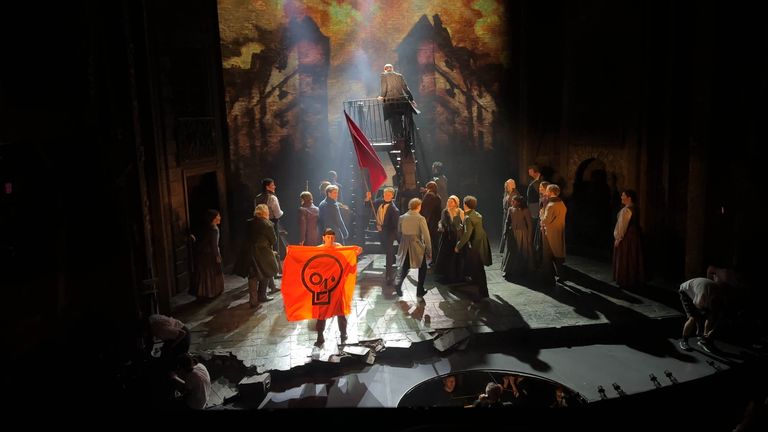 Detective Inspector Chris Rudd said: "Many of those in the audience will have travelled significant distances, having purchased tickets months in advance, and it is unacceptable that demonstrators have targeted a specific group of people in order to ruin what should have been a special night out.
"We are aware of footage circulating on social media, but ask anyone with additional footage to get in touch as this will help us bring those responsible to account."
Those detained – aged 28, 23, 22, 19 and 18 – were arrested on suspicion of aggravated trespass and remain in custody.
The protesters went on stage during a performance of Do You Hear The People Sing?
Footage showed Just Stop Oil members explaining why they took the action, wearing T-shirts saying: "The show can't go on."
July: Just Stop Oil protester sits on floor

Some members of the audience booed and shouted while a protester addressed the auditorium.
The activists then locked themselves to the set, prompting the Sondheim Theatre to be evacuated.
William Village, chief executive of Delfont Mackintosh Theatres – which owns the Sondheim – said there was insufficient time to complete the rest of the performance.
"Whilst we recognise the importance of free expression, we must also respect our audience's right to enjoy the event for which they have paid," he said.
Zoe Cohen, from Just Stop Oil, said the climate crisis is driving up food costs and "it's insane to think that a theatre performance is more important than food on the table".
Zoe Cohen gets teary saying 'how many more people have to die?' when asked about the protest

"Why wouldn't young people do anything peaceful to try to save humanity's future?" she told Sky News on Thursday.
"There is no one to vote for … who can you vote for who is actually going to end new oil and gas – and give us the tiniest sliver of a chance of a future?
"The British people can discern between being frustrated at Just Stop Oil and being devastated and terrified about climate collapse. They know the difference. People have broken bad laws throughout history."
She added: "The only thing people will regret in the years to come is that you didn't take action. This is only going one way … everyone knows that."
Read more on Sky News:
Thousands evacuated in Tenerife as summer wildfire reignites
Will bed bugs travel from Paris to UK? They're already here, says expert
It was the latest in a string of public protests by Just Stop Oil, which has previously disrupted high-profile sporting events including The Ashes and Wimbledon, as well as carrying out walking protests through the capital during rush hour.
The group was also accused of causing criminal damage by a government minister after spraying the Department for Energy and Net Zero with orange paint.
Last month, Fossil Free London carried out a similar protest at Sadler's Wells theatre during a performance of a ballet version of Romeo & Juliet, demanding an end to the involvement of Barclays in the production.