The Marion, Kansas, police chief was suspended this week following a series of raids that included the office of a local newspaper and the home of the city's vice mayor.
Marion Mayor David Mayfield suspended Police Chief Gideon Cody on Thursday, according to the Marion County Record, the same newspaper that was raided.
The Marion Police Department confirmed the suspension on Saturday. The mayor's office did not immediately respond to a request for comment.
The newsroom, it's publisher Eric Meyer's home and Vice Mayor Ruth Herbel's home were all searched on Aug. 11 following Cody's stated belief that a reporter had committed identity theft by accessing the driver records of restaurant owner Kari Newell, court documents previously released by the paper's attorney stated.
The chief wrote in affidavits that "downloading the document involved either impersonating the victim or lying about the reasons why the record was being sought."
The newspaper, however, said reporter Phyllis Zorn obtained the records through the state Revenue Department's online search engine after the newspaper received a tip that Newell was convicted of a DUI in 2008. The publication wanted to know whether that would prevent Newell from having a liquor license. The newspaper said it even asked police about the tip.
Herbel had also received the same tip.
Marion County Attorney Joel Ensey later asked police to return any property that was taken, saying they did not have enough evidence to justify the raids.
Herbel, who had called for Cody's suspension, has said that the raid at her home was "illegal" and that her computer and phone were seized with "no justification." She also accused the police chief of falsifying the documents used to obtain the search warrants.
"The county attorney withdrew all search warrants and then he falsified the documents by changing the warrants after it had been served to me by changing the words 'identity theft and unlawful acts concerning computers' to 'identity theft and official misconduct' before filing the warrant in district court," she said at a City Council meeting last week. "This is criminal fraud."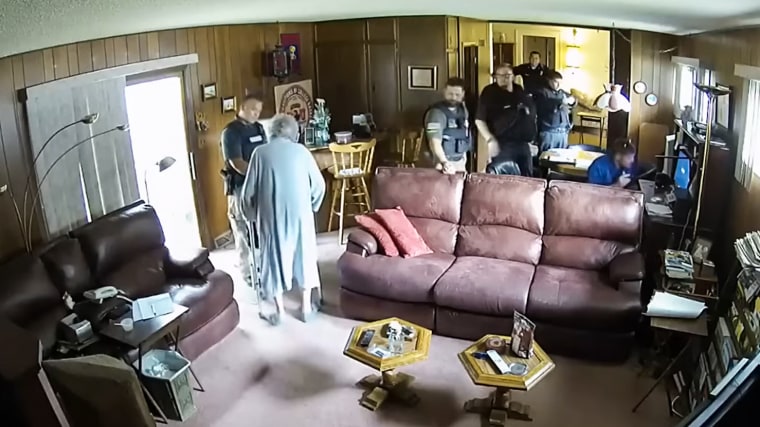 The newspaper has also said the search was unjustified. A day after police raided Meyer's home his 98-year-old mother, Record co-owner Joan Meyer, died. He blamed her death on stress caused by what happened.