A queer professor at Arizona State University was allegedly left bloodied after an altercation broke out last week between him and two members of a conservative group, in what authorities are investigating as a hate crime.
David Boyles — who teaches English and is the co-founder of Drag Story Hour Arizona — was confronted on ASU's campus by two men with the right-wing group Turning Point USA on Wednesday. 
The next day the group posted online a 96-second video showing Boyles being followed by a cameraman and a personality named Kalen D'Almeida firing contentious questions regarding his work with Drag Story Hour. Drag Story Hour is a national group with local chapters across the country that organizes events where drag performers read children's books to kids at bookstores, libraries, LGBTQ centers and other public venues.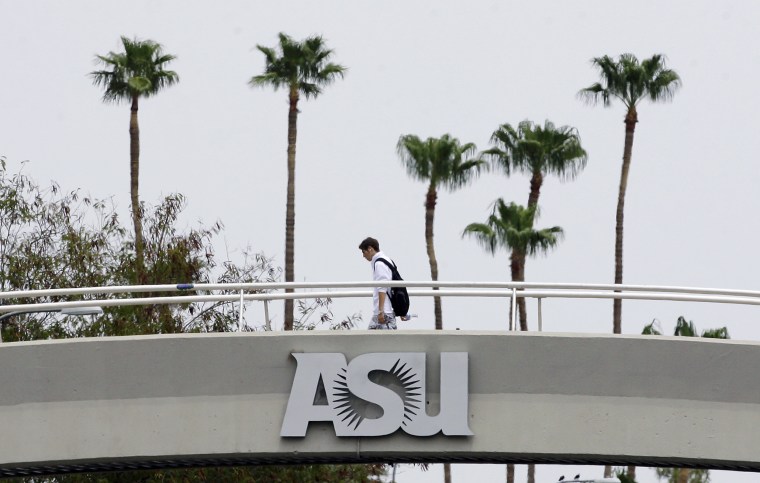 "You can't run," D'Almeida said. "It's best if you just talk to me on why you want to push sodomy to young people."
The Turning Point USA video shows Boyles ignoring the men until the end of the clip, when Boyles appears to strike the camera and the video cuts out. Security footage released by law enforcement shows Boyles striking the camera and D'Almeida subsequently pushing Boyles to the floor, causing him to hit his face.
Police told KPNX-TV, an NBC affiliate based in Mesa, Arizona, that they are investigating the confrontation as a "potential bias or prejudicially motivated incident." 
A spokesperson for the Arizona State University Police Department did not immediately respond to a request for an update on the case. 
Turning Point USA spokesman Andrew Kolvet told the local outlet that the cameraman plans to file a police report because of the altercation.
Boyles posted a photo on Facebook last week showing the left side of his face bloodied.
"My physical injuries are relatively minor and I'm doing ok," Boyles wrote. "But I'm also feeling angry, violated, embarrassed, and despairing at the fact that we have come to normalize this kind of harassment and violence against anyone who tries to support LGBTQ+ youth (ironically the topic of the class I had just finished teaching) or just LGBTQ+ people and other marginalized groups in general."
He added, "Whether it is bomb threats against children's hospitals and libraries, a store owner being killed for her pride flag, or the now standard rhetoric that anyone who supports LGBTQ+ youth is a 'groomer,' it has to stop."
On Saturday, ASU President Dr. Michael Crow condemned the altercation in a letter posted on the university's website.
"It is astounding to me that individuals from Turning Point USA would wait for an ASU instructor to come out of his class to follow him, harass him and ultimately shove him to the ground, bloodying his face," Crow said. 
The ASU incident comes as anti-LGBTQ demonstrations and attacks have spiked in the last year across the country.
From June 2022 to May, there was an average of 39 anti-LGBTQ protests per month, compared with just three per month from January 2017 through May 2022, according to a recent report by the Crowd Counting Consortium, a research group that tracks political protests.
Additionally, there have been several high-profile acts of violence allegedly incited by anti-LGBTQ sentiments in recent months, including multiple bomb threats.
In July, the fatal stabbing of a 28-year-old gay professional dancer, O'Shae Sibley in Brooklyn, New York, made national headlines. Police later deemed the stabbing hate crime. Similarly, the killing of Laura Ann Carleton, a California business owner and mother of nine, sent shock waves around the nation. Carleton was fatally shot during an altercation over a Pride flag displayed in her clothing store.
Last month, police in Salt Lake City, Utah, New York City and New Haven, Connecticut, all responded to separate bomb threats to LGBTQ spaces or events within the same weekend.