Rapper Lady Leshurr has been found not guilty of attacking her ex-girlfriend's partner.
The 35-year-old was accused of assaulting Chante Boyea – who at the time was dating her ex-girlfriend Sidnee Hussein – just after 5am on 22 October 2022.
The rapper, whose real name is Melesha O'Garro, allegedly bit her hand so badly that she suffered "nerve damage".
But a jury at Snaresbrook Crown Court in east London found her not guilty on Wednesday on two counts of occasioning actual bodily harm, a court official said.
The former Dancing On Ice contestant said Ms Boyea, a security officer, attacked her first and used her Belgian Malinois dog Toby as a "weapon" during the incident in Walthamstow, northeast London.
O'Garro's co-defendant, Sherelle Smith, was also found not guilty on one count of the same charge.
Read more on Sky News:
Robert De Niro shouts 'shame on you' at ex-assistant in court
Little Britain sketch 'explicitly racist and outdated'
Matthew Perry's life in pictures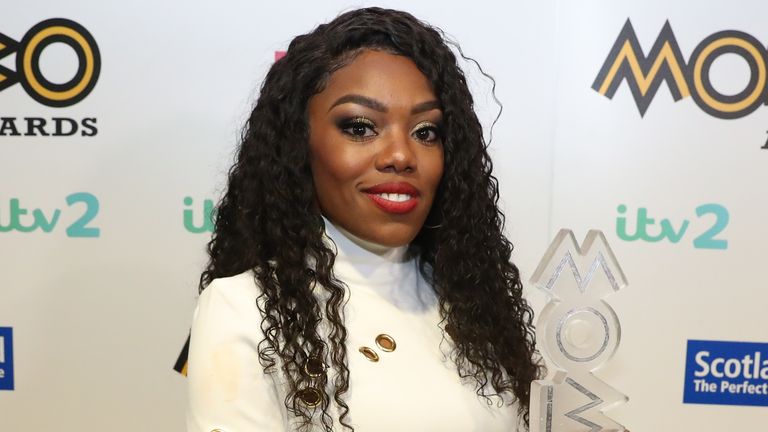 'People have deserted me'
Leshurr posted a video on Instagram after the verdict, with the caption saying her "career is ruined".
Dressed in a purple suit with a black T-shirt, the caption read: "For the past year I've been battling a court case from people that accused me of stalking, harassing, and biting them but I was the victim.
"I was attacked and bitten by a dog and made out to be the aggressor. For a whole year people have deserted me, dropped me from deals, and didn't want to work with me anymore. For a whole year I have had no income.
"Today has been judgement day. I'm shaking whilst I write this. My career has been ruined regardless no matter the outcome, but at least I have a clean record and can finally get on with my life."
Leshurr is a MOBO Award winner and has achieved critical acclaim for her freestyle raps.
She appeared on The Celebrity Circle in 2021, reached the semi-final of the 13th series of Dancing On Ice in 2021 and was a guest panellist on the ITV show Loose Women in April and August 2022.