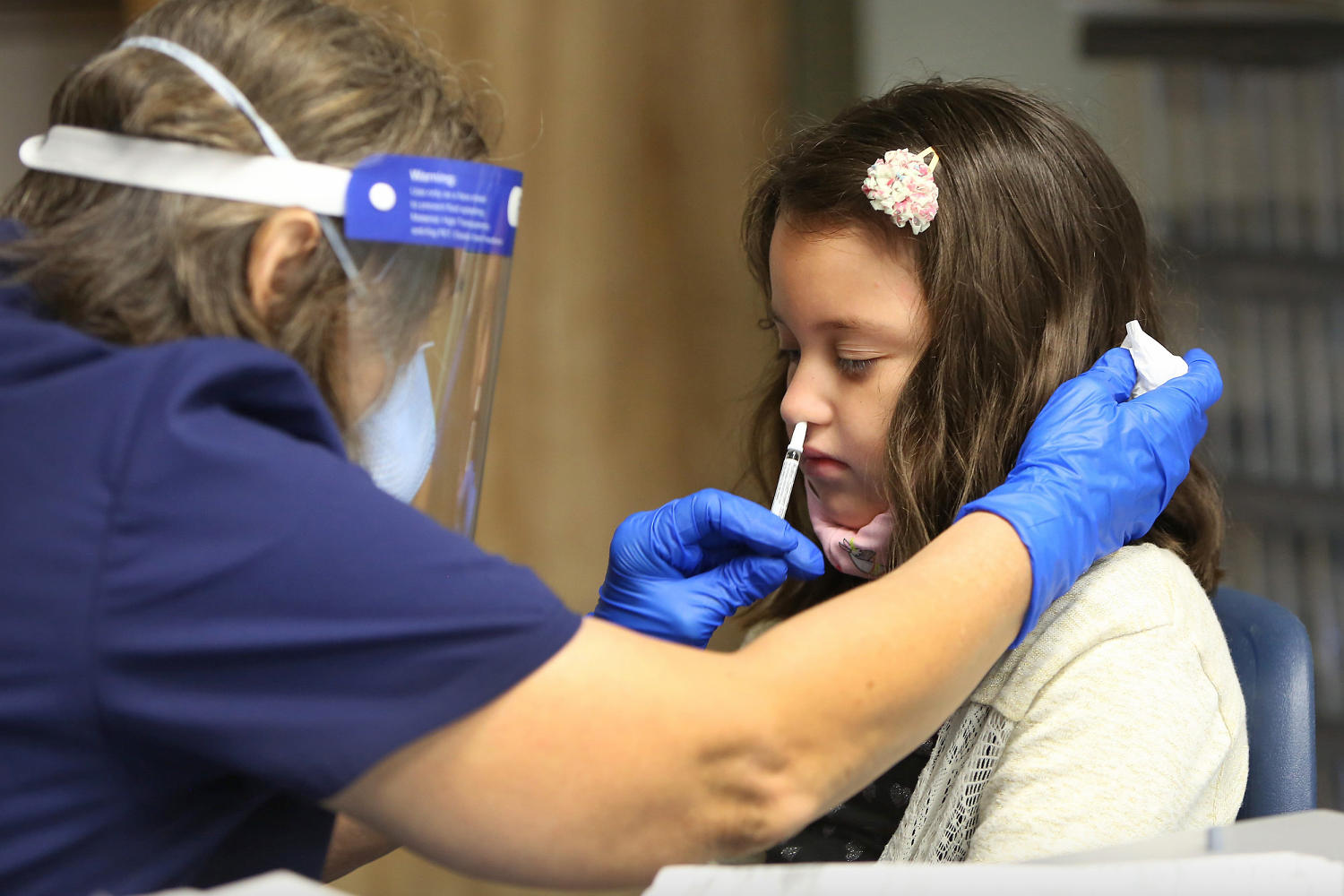 The U.S. is once again facing a deluge of viral illness on the cusp of Thanksgiving and other winter holiday gatherings.
While flu activity is still simmering at low levels overall, "we are now seeing sustained increases across the country," especially in Southeastern states, such as Alabama, Georgia, Louisiana, Mississippi and South Carolina, said Alicia Budd, head of the domestic influenza surveillance team at the Centers for Disease Control and Prevention.
"We expect that we're going to continue to see many more weeks of increasing flu activity," she said.
Budd's team estimates that at least 780,000 people have been sick with flu so far this season, resulting in at least 8,000 hospitalizations and 490 deaths, including one child.
Influenza type A, specifically H1N1, is predominant. That strain is generally not as hard on older adults, Budd said, but added that her team is seeing other strains, as well, that can severely affect anyone.
Is this year's flu shot effective?
The strains that are circulating mirror those included in this year's flu shot, Budd said. "That bodes well for how effective the vaccine is going to be at preventing infection" or at least serious illness, she said.
Dr. Mandy Cohen, director of the CDC, said that it's not too late to get vaccinated.
"These are the months when flu likes to circulate, particularly after everyone travels and gathers for Thanksgiving," she told NBC News.
Cohen has been traveling across Texas this week encouraging people to get the vaccine. While flu is a focus, she said that levels of respiratory syncytial virus are high in Texas and across the Southeast.
"RSV is definitely here and affecting, particularly, our youngest children," Cohen said.
Katelyn Jetelina, an epidemiologist at the University of Texas Health Science Center, said that RSV seems to be hitting earlier than usual, a change from pre-Covid years.
"Typically, it would peak around January, February even," said Jetelina. "Now we're starting to see it peak around November, December, which is really quite abnormal."
It is, indeed, a "heavy volume year" when it comes to RSV spread, said Dr. Jeffrey Kahn, chief of pediatric infectious diseases at UT Southwestern Medical Center and Children's Health in Dallas.
"The numbers that we're seeing this year far exceed the numbers we've had in the past," Kahn said. Most kids sick with RSV are stuffed up with congestion, and are coughing and wheezing.
Children who were born prematurely or who have underlying issues with their lung or heart function are at the highest risk.
So far this season, the overall hospitalization rate from RSV is 7.3 per 100,000 people, the CDC reported.
The surge comes amid a shortage of a new drug meant to prevent RSV infection.
Beyfortus, approved by the Food and Drug Administration in July, is intended for babies during their first RSV season. Children up to age 2 who are at high risk for severe illness from the virus can get additional doses during their second RSV seasons.
On Thursday, the CDC and FDA said the agencies had worked to release an additional 77,000 doses of Beyfortus. It was unclear Friday whether the action would resolve the shortages or simply help.
The supply of Beyfortus at Texas Children's Hospital in Houston remains low, said chief medical officer Dr. Stanley Spinner. "We will not have many left over the next couple of weeks, I'm afraid," he said.
"We know parents are frustrated," Cohen said. "We expect to see additional doses over the next weeks and into the RSV season. We're working with manufacturers on that."
What about Covid?
The number of positive Covid cases seems to be plateauing following a summer wave of illness, Cohen said. "Unfortunately, we do expect to see that increase over the next couple of months," she said.
Data from WastewaterSCAN, a group that receives data from wastewater collection sites in 36 states three times a week looking for evidence of viruses shed in sewage, shows that Covid remains widespread, from the Northeast through the Western part of the U.S.
Covid is persisting, said Alexandria Boehm, a professor of civil and environmental engineering at Stanford University and principal investigator and program director for WastewaterSCAN. "It's something to be aware of as we head into the holiday season," said Boehm.
Given the increases in viral activity, some experts are once again turning to masking.
"I'm a mom, and I'm working, and I don't have time to get sick," said Jetelina, who is also the publisher of a newsletter called "Your Local Epidemiologist."
"It's one very small, easy tool that I can use to reduce my risk," she said.
Follow NBC HEALTH on Twitter & Facebook.