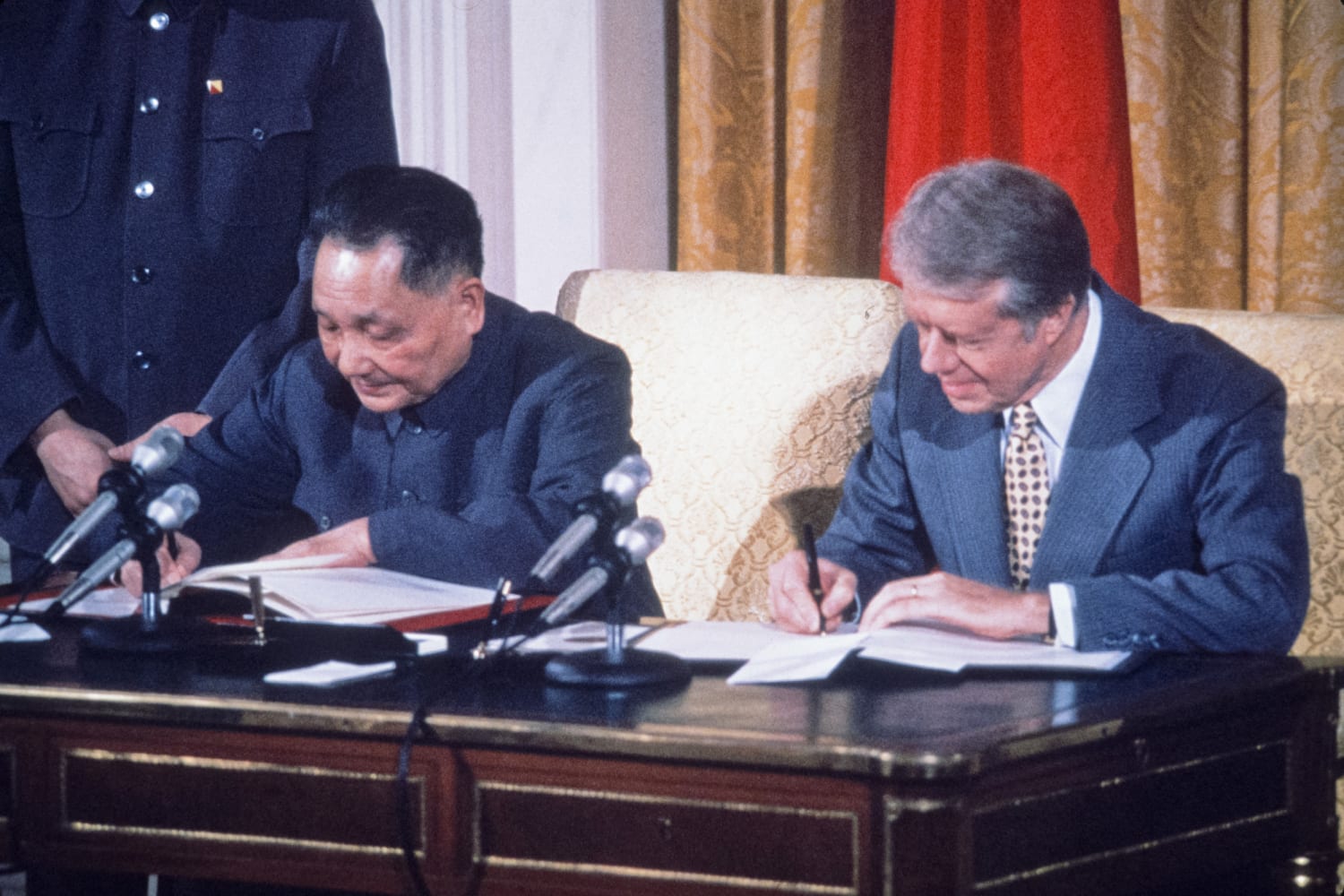 The Biden administration faces a difficult balancing act in its approach to China as it strives to safeguard U.S. national security without jeopardizing the overall relationship. Last year President Joe Biden announced a measure aimed at cutting China off from advanced semiconductor chips, and this month he ordered restrictions on U.S. investment in high-tech industries in China such as semiconductors, artificial intelligence and quantum computing.
But the White House has also tried to reduce tensions with Beijing over issues such as trade, human rights and the status of Taiwan, sending a series of senior U.S. officials to China in recent months, including Blinken, Treasury Secretary Janet Yellen, U.S. climate envoy John Kerry and, next week, Commerce Secretary Gina Raimondo.
Readouts from the U.S. and China during Blinken's visit to Beijing in June said that both sides wanted to increase people-to-people exchanges, which would include science and technology cooperation.
Chinese officials have indicated that they would like to see the STA renewed. Speaking at the Aspen Security Forum last month, China's ambassador to the United States, Xie Feng, said renewing the agreement was a small but concrete way to start improving relations between the two countries.
The agreement plays an "irreplaceable" role in promoting scientific and technological cooperation and exchanges, said Wu Xinbo, director of the Center for American Studies at Fudan University in Shanghai.
Not renewing it, he said, would suggest the U.S. "is indeed launching a new Cold War against China."
Wu said it would also create uncertainty around other forms of U.S.-China cooperation, on climate change for example, suggesting that they could be "easily susceptible to political disruptions."
U.S.-China cooperation in science and technology has been "mutually beneficial" and the agreement should be renewed, the Chinese Foreign Ministry said in a statement on Wednesday.
"China firmly opposes the politicization and weaponization of scientific and technological issues, the generalization of national security concepts, and the setting up of obstacles to normal exchanges in the scientific and technological community," the ministry said.
Allowing the agreement to lapse would signal to Chinese officials that the U.S. is less interested in "de-risking" the relationship than "genuine decoupling of everything," said Seligsohn, who recently returned from a trip to China.
In addition, she said, it would further alienate Chinese scientists and graduate students, growing numbers of whom have already been leaving the U.S. after years of government prosecutions of Chinese academics accused of espionage that upended lives and careers but mostly came up empty.
"If we fail to renew this agreement, it really sends a message to those young scientists and potential scientists — the brains of the future — that the U.S. is not interested in working in them," she said.
Supporters of the agreement point to numerous instances of U.S.-China collaboration that have improved the lives of Americans.
It was a large-scale study in China, for example, that revealed the crucial role of folic acid supplements in reducing the risk of spina bifida and other neural tube defects, which women today are encouraged to take well before they become pregnant.
With the help of the Environmental Protection Agency, China has greatly reduced local air pollution, much of which was blowing across the Pacific and blanketing the West Coast.
Enhanced influenza surveillance in China, made possible by support from the U.S. Centers for Disease Control and Prevention, has also informed the development of annual flu vaccines around the world in what Seligsohn called a "huge success story."
Supporters of the STA say China's scientific advances have only made collaboration more valuable for the U.S. They say the agreement can be modified, as it has been in the past, to address any concerns and that it doesn't commit the U.S. to cooperating with China.
"If there are areas we don't want to work on, just don't work on it," Seligsohn said.